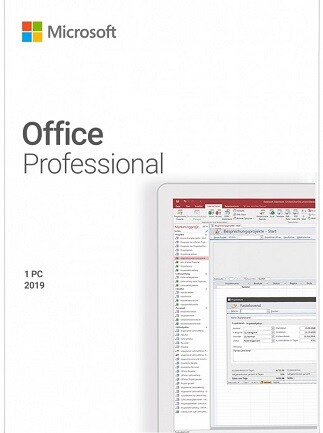 1/1

Microsoft Office Professional 2019 (PC) - Microsoft Key - GLOBAL
The essentials to get it all done. Office Professional 2019 is for growing small businesses who want the classic Office apps plus Outlook, OneDrive, Publisher and Access1. A one-time purchase installed on 1 PC for use at ...
Read More
Offer from seller
Software_house
100%
Positive feedback
3732
Sales feedback (last 12 months)
---
This seller has received exceptionally high ratings from buyers for outstanding customer service.
---
This seller does not issue invoices.
Money Back Guarantee
for digital products provided by sellers
Excellent seller

99%

Positive feedback

3918

Sales feedback (last 12 months)

---

This seller has received exceptionally high ratings from buyers for outstanding customer service.

---

This seller does not issue invoices.

0

Software_house

Excellent seller

100%

Positive feedback

3732

Sales feedback (last 12 months)

---

This seller has received exceptionally high ratings from buyers for outstanding customer service.

---

This seller does not issue invoices.

0

Gameshoptarget

100%

Positive feedback

224

Sales feedback (last 12 months)

---

This seller does not issue invoices.

0

Sales feedback (last 12 months)

---

This seller does not issue invoices.

0

The essentials to get it all done. Office Professional 2019 is for growing small businesses who want the classic Office apps plus Outlook, OneDrive, Publisher and Access1. A one-time purchase installed on 1 PC for use at work.

Below are the minimum and recommended system specifications for Microsoft Office Professional 2019 (PC) - Microsoft Key - GLOBAL. Due to potential programming changes, the minimum system requirements for Microsoft Office Professional 2019 (PC) - Microsoft Key - GLOBAL may change over time.

Portugese-Brasil

Greek

Slovakian

Slovak

Spanish - Latin America

Chinese

Czech

German

Spanish

Finnish

French

Italian

Japanese

Korean

Polish

Portugese

Russian

Vietnamese

English

Turkish

Dutch

Norwegian

Arabic

Romanian

Ukrainian

Turk

Swedish

Hungarian

Bulgarian

DU

Thai

Danish
Payment methods:
and 200+ more