METAL GEAR SOLID V: The Phantom Pain Steam Key GLOBAL
Available from marketplace sellers
There are %d people looking at this product.
Warning! METAL GEAR SOLID V: The Phantom Pain for steam is region locked and CAN NOT be activated and played in China and Japan.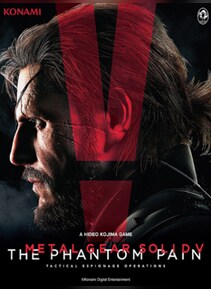 Language available:

Region:

GLOBAL

Platform:
Earn $1.30 if somebody buys this product using your Goldmine reflink. Find out more
Buy product from these sellers:
How does G2A Goldmine work?
Tell your friends about G2A's Goldmine – build a team and boost your earnings!

2

Watch your profit grow!

Just sit back and relax as your work brings profit now! Use the tips and tools we made for you to maximize the earning potential.

A job well done deserves a proper credit. And still, you have not been working hard to achieve it right? Choose your preferred payment option and receive the paycheck!
Product Description

Witness the journey of a grizzled soldier Snake across Africa and Afghanistan as he resumes his life after the events of Ground Zeroes. Set in 1984 during the Soviet invasion of Afghanistan, Metal Gear Solid V: The Phantom Pain fills the unexplored cards in the timeline of the venerable series, letting the player control every step along Snake's way to power. Follow him as he gathers technology and personnel to create his own organisation separate from international militaries, all while making his name heard around the world.

Hideo Kojima's magnum opus and the final game made for Konami, MGSV is a stunning open-world military experience giving players freedom to act on a scale rarely encountered elsewhere in the genre. Stealthy, overt or any mixture thereof, The Phantom Pain provides the solid gameplay needed to carry out any on the player's ideas in a perfect and carefully crafted way.

Key features

Extremely polished and flexible gameplay

Metal Gear Solid 5 is the culmination of an almost 30-year-old series. Perfecting all aspect of solid action and stealth games, MGSV allows the players to complete objectives in any way they find the most interesting and enjoyable. If you prefer stealthy playthrough, the game provides you with enough gadgets and gameplay mechanics to become a shadow.

Silent takedowns, crawling beneath enemies' feet and Reflex System giving you extra time to avoid alarm are there to make stealth more enjoyable than ever. If you prefer a direct approach, MGSV's great gunplay, an impressive variety of meaningfully upgradeable weapons at your disposal and a chance to call in an airstrike will make short work of your enemies.

Watch as one approach smoothly transitions into another as a carefully carried out mission is put in jeopardy by accident and you have to fight your way through the mission, creating a moment to remember. The maps are spacious and populated with enemy bases and military compounds to keep the players entertained. Metal Gear Solid V The Phantom Pain is a perfect game for all enthusiasts of action games.

Build your own base in MGS5

Build and expand your headquarters, the Mother Base. Collect personnel, resources and more during the missions with an indispensable rapid extraction balloon. Manage your staff and unlock new upgrades and equipment for additional gameplay options. There are hundreds of items big and small available for research and manufacture in The Phantom Pain, provided you have the capable personnel and enough resources to make it happen. Mother Base is your place to stay between assignments, to take a deep breath and relax before jumping into the fray once again.

Side-operations

Metal Gear Solid 5: The Phantom Pain (PC) offers over a hundred operations outside of the main storyline, available for you and your crew to complete and gather more resources to speed up the development of your Mother Base

Excellent storytelling of the Metal Gear franchise

Watch the story unfold during cinematic cutscenes. Precise cinematography, spot-on voice-acting from all of the cast, and stunning graphics engine create a stunning, gripping spectacle. Witness the growth and development of Snake as his powerbase grows and enemies don't seem to dwindle.

Metal Gear Solid V: The Phantom Pain shows and allows you to play through the turning point of one of the most important characters in the series. Serious and nuanced, the storyline is a satisfying experience for veterans of the franchise, and understandable to newcomers.

Forward Operating Bases and Metal Gear Online

The Phantom Pain has two different multiplayer modes. Forward Operation Bases are a continuous struggle, as you defend your own customisable base and strike at the heart of others to grab their researchers and resources. It offers another layer to the single player campaign and creates a chance to speed up the development of your Mother Base beyond what is achievable by regular missions.

There is also the Metal Gear Online, a solid and more classic multiplayer mode pitching players against each other in battles of up to 16 players. One of the modes is the Bounty Hunter, based on gathering tickets for killing opponents, which raises the Bounty for each kill. Steal the gathered tickets from your enemies by knocking them out and extracting them with a weatherbaloon!

Stunning graphics

The Fox Engine developed by a team lead by legendary developer Hideo Kojima provides the player with nearly photorealistic sights. From detailed and nuanced character models and animations to incredible lighting or material physics, Metal Gear Solid 5 is a visual work of art and the crowning achievement of the developers. Buy MGS5: The Phantom Pain and see the rise to power of an organisation and people to shape the future of Metal Gear world. Lead the way yourself in any way you see fit and bask in the respect of your soldiers.

Minimal requirements

Recommended requirements

System Requirements:

Windows 7x64 / 8x64

Processor:

3.40 GHz - Intel Core i5-4460

Memory:

4 GB RAM

Graphics:

2GB - NVIDIA GeForce GTX 650

HDD:

28 GB

Other:

64-bit OS / DirectX 11 card

System Requirements:

Windows 7x64 / 8x64

Processor:

3.60 GHz - Intel Core i7-4790

Memory:

8 GB RAM

Graphics:

NVIDIA GeForce GTX 760

HDD:

28 GB

Other:

64-bit OS / DirectX 11 card

Age and content rating

Other

Steam

Steam - Game can be activated on Steam, enables you to play on official Steam servers and your game will be kept updated with the latest patches via the Steam platform.

Key Type

This product is available as a CD key carried out via digital means - no shipping fees apply.
Frequently bought with this item